Product Overview
OSSkin.Net enables C# and VB.Net developers to skin windows forms .NET applications from a choice of 22 authentic looking skins including Windows XP, Windows Vista, Windows 7, Aero, Office 2007, Office 2010 and Mac OS-X themes. Thanks to an advanced skin engine designed entirely in C#, it is the only skinning product currently available that completely skins all windows forms .NET forms, controls and dialogs.
Dynamic form shadows
OSSkin supports dynamic alpha-blended drop shadow effects on all forms and dialogs, a feature unique to our product and available on all platforms. Your application forms will literally spring to life popping right out of the screen.
ToolStrip Rendering
OSSkin will completely skin all windows forms tool strip controls including the ToolStrip, MenuStrip and StatusStrip controls. There is a choice of 3 professional tool strip rendering styles to choose from as follows :-
The

System

style draws ToolStrips using skinned elements.

The

Professional

style draws ToolStrips using skinned gradients and colors.

The

Mixed

style draws ToolStrips using a combination of skinned and gradient styles.

Designer features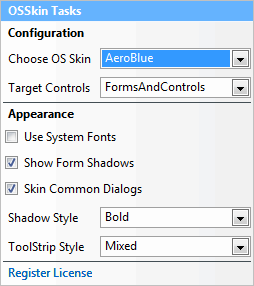 OSSkin installs directly into the Visual Studio Toolbox. Setup is easy, just drop the component onto the main form of your application, or the first form the users see's when running the application.
Using the built-in Smart-tag designer you can then customize every aspect of the skin and set your preferences without having to modify your project or source code.
You can also change any appearance properties on the component at runtime, your application GUI is automatically updated in real-time to reflect the new settings.
Built-in Skins
"SkinSoft developed a platform independent skin engine that does not require uxtheme or a 'theme aware OS' such as Windows XP, so your skinned applications will always look the same on all Microsoft platforms from Windows 2000 upwards. Click on an image below to see a full skin preview.
| | | |
| --- | --- | --- |
| | | |
| XP Blue | XP Olive | XP Metallic |
| | | |
| XP Royale | Vista Blue | Vista Black |
| | | |
| Vista Silver | Aero Blue | Aero Silver |
| | | |
| Aero Black | Office 2007 Blue | Office 2007 Black |
| | | |
| Office 2007 Silver | Mac OS-X Tiger | Mac OS-X Panther |
| | | |
| Mac OS-X Leopard | Mac OS-X iTunes | Mac OS-X Brushed |